Piercing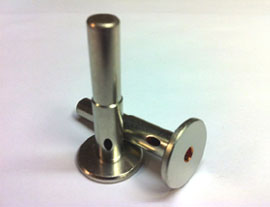 What is metal piercing?
Piercing is a mechanical process where a cavity or hole is created in a metal shape by a pressing process versus traditional drilling techniques.
What are the challenges with piercing?
Process design
Retaining features of the shape after piercing
Why use MFI for piercing?
Piercing equipment is on site in Russellville, Indiana
Process design, prototyping, and engineering under one roof
What are the primary benefits of piercing?
Increased production speed over drilling
Metal shavings eliminated
Tight tolerances
Variety of shapes
Grain structure retention when cavities formed


In addition to piercing, MFI's secondary manufacturing equipment includes chuckers, thread rolls, Brown & Sharpes, along with drilling and tapping equipment. Completed operations include milling, slotting, drilling, tapping, counter boring, chamfering, threading, knurling, brazing, grooving, trimming, and nickel plating.
---